Clementine is turning 5 and we have so much to celebrate, so much to be thankful for, and so much to look forward to. We're taking a milestone moment to reflect on the past 5 years.
October 2020 marks big news for Clementine Creative – we're turning 5! While 2020 certainly hasn't been what anyone expected, we still have so many reasons to reflect with thanks and celebration as we mark this milestone. In keeping with the theme, here are 5 of them.
CREATIVITY
Creativity and storytelling are the seeds of inspiration from which Clementine was born. When our two founding partners stepped out of a corporate environment and into the unknowns of agency start-up, it was because of a passion for elevating the craft of authentic storytelling and adding that one-of-a-kind creative edge that makes the difference. The truth is, not everyone takes the time for creativity, especially if there's an easy formula solution at hand. But for Clementine, creativity became a way of working, a way of thinking, of doing what others wouldn't take the time to do.
The results of that commitment are evident throughout the diverse portfolio of work that Clementine has created. It only takes a glance at the Pratt Stacks Brand Experience Center – with its stunning custom mural work and sleek curated digital – to know that this is not just any sales center.
Why just put up a templated website splash landing page when you can leave people hungry for more with the stained glass-inspired design set in motion for Sanctuary Food Hall? Projects like these are testaments not only to the power of creativity for Clementine but also for our amazing clients that embrace the impact that creativity can make.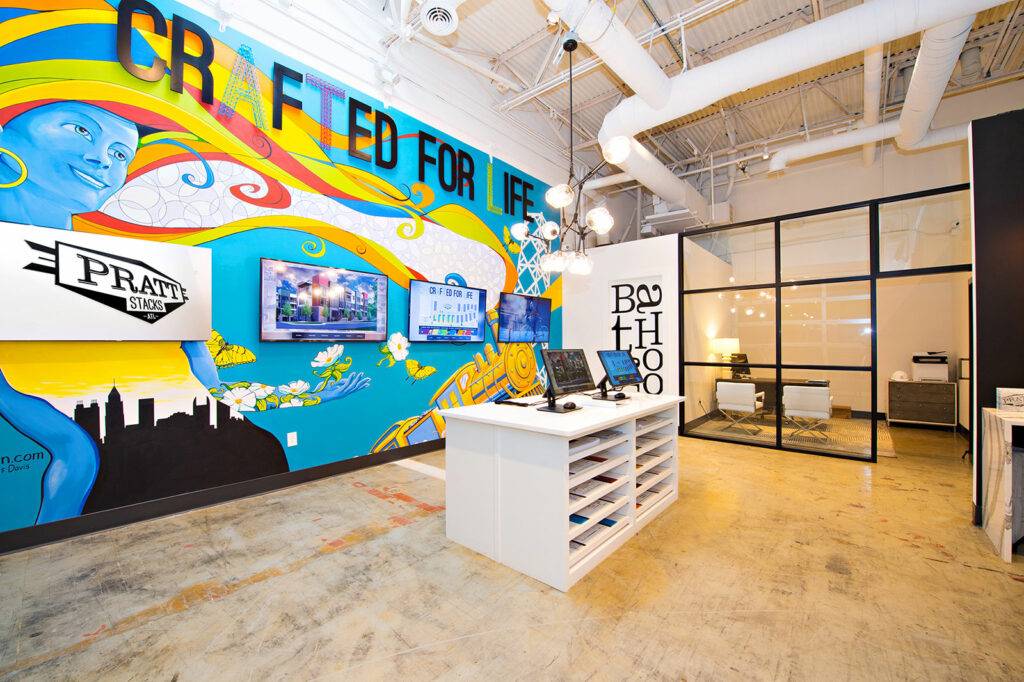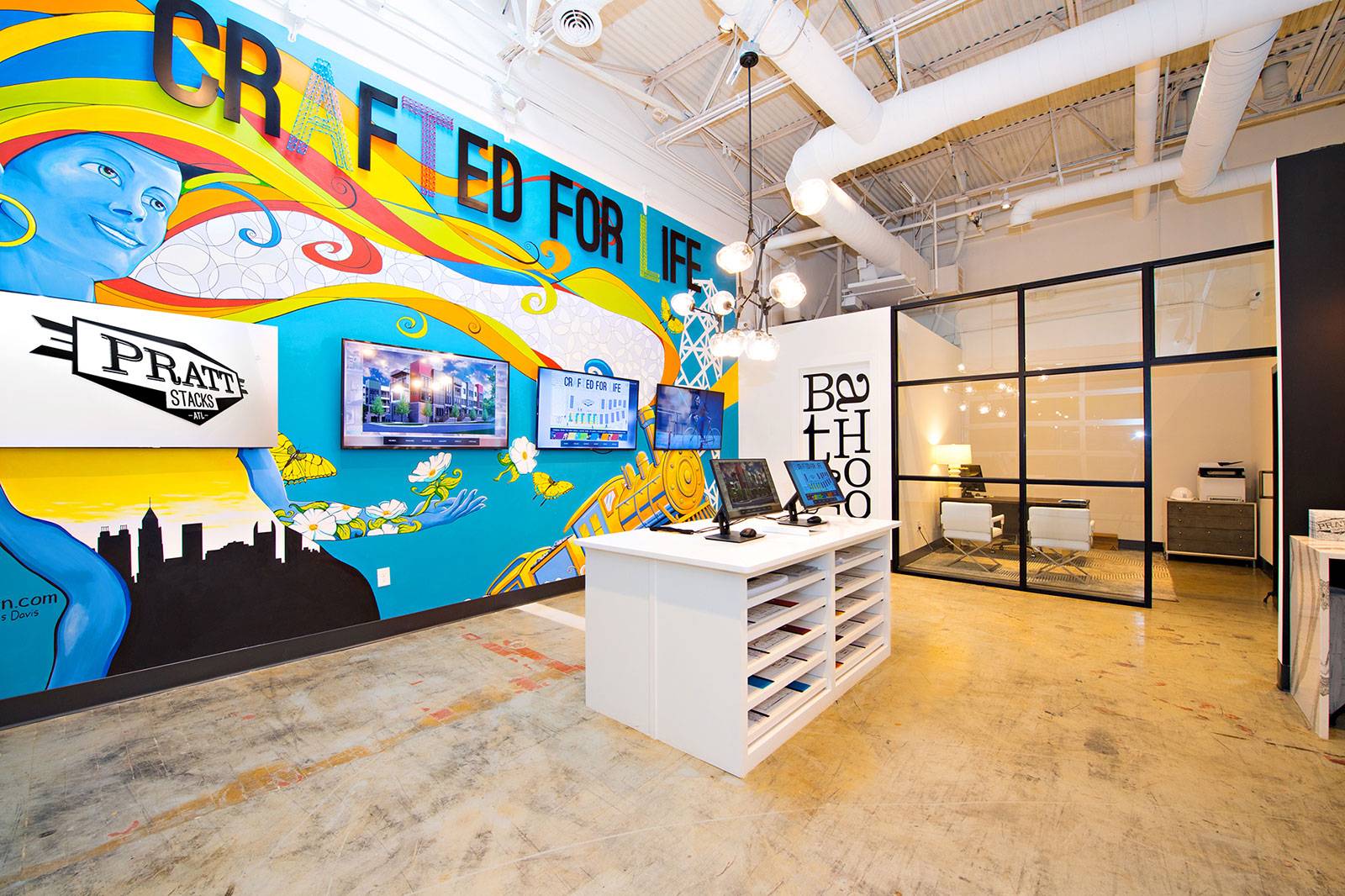 COLLABORATION
Clementine Creative began with collaboration. What began with two has grown into a select and talented team that shares the passion for creativity and working alongside exceptional people that was the original seed of Clementine Creative. The team has a diverse range of skills that come together to complement one another in a way that certainly makes the whole greater than the sum of the parts.
Clementine Creative has also benefited from the fruits of collaboration with a wide range of clients who share its dedication to work that's a cut above. And what a joy! We've celebrated with Atlanta luxury real estate brand Brightwater Homes as we took their Instagram audience all the way from 11 followers (11!) to more than 12,000 and growing. We've cheered as the ribbon dropped to mark the opening of Marietta Square Market food hall. We've seen The Providence Group leverage the Pratt Stacks brand into Atlanta's top-selling community of the year. And we've shared encouragements and successes with small businesses and entrepreneurs as we work alongside them to launch their own brands into the world.
COMMUNITY
For Clementine, community begins at home. We're thankful for a team that shares an incredible work ethic, tons of talent and a willingness to support one another in everything we do. So we celebrate each other, every day in our work, when we see the fruits of our labors and when we get a little time to step away from the screens and stories to just enjoy.
We've spread holiday cheer – and valuable free marketing exposure – for our neighbor merchants on Marietta Square with the annual Merry Marietta Window Walk storefront display contest. We pitched in to give the small business community a boost in the wake of COVID-19 with our Locals Support Local pro bono marketing support effort. And through our ongoing volunteer initiative that we like to call Be Kind Clementine, we've connected hands-on with causes that matter to our team and community whether it's creative card-making for Send a Smile Today cancer outreach and local seniors' homes to packing meals for Meals on Wheels.
CONTEXT
With time comes experience and learning. Beginning from the ground up, five years have brought us many successes and many challenges. With each we've stretched, we've learned and we've grown. And that's what we hope to keep doing. Every mile we cover builds not only our history but also the skillsets that we have to put to work on behalf of our clients. Whatever the twists and turns in the road (say like 2020?), we can lean on the big picture and the commitment that brought us here in the first place.

CONGRATULATIONS
Of course it's always nice to have hard work recognized. And over the last five years, the Clementine bunch has earned 16 regional, national and international awards for a diverse range of work from branding to print design to retail environments to website design and social media.
While we enjoy adorning our trophy case, we do believe most of all that great work is its own reward when it culminates in a happy client.
So that's a happy birthday to our darlin' Clementine. Here's to the next five years to come!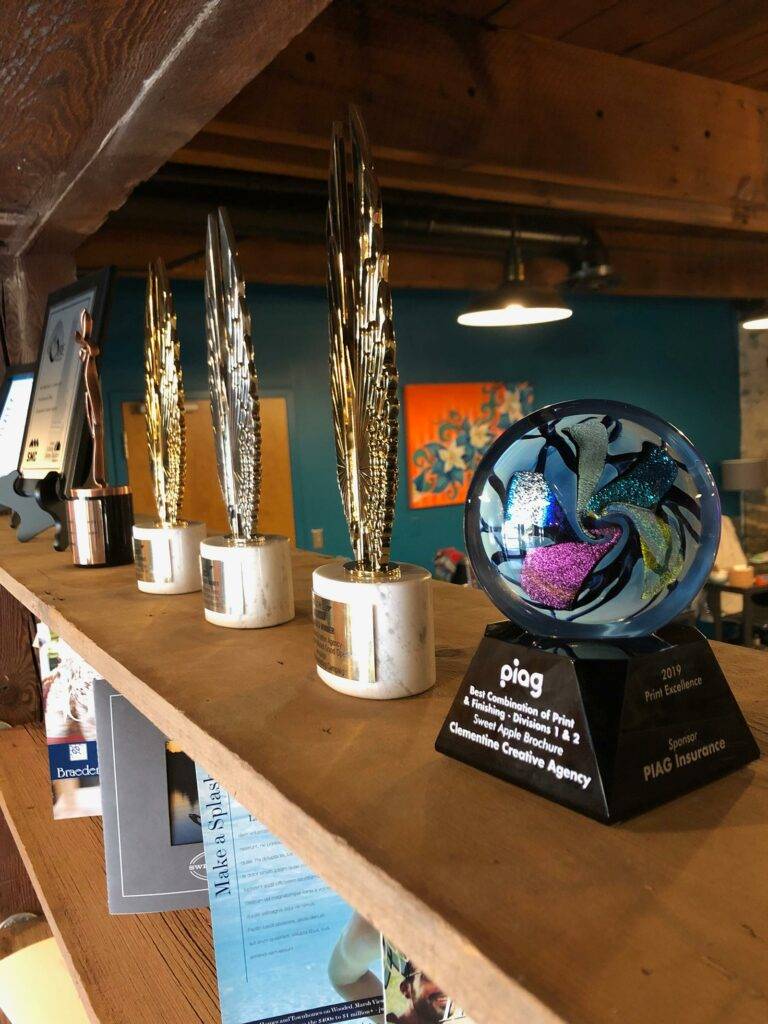 See Our Blog
test