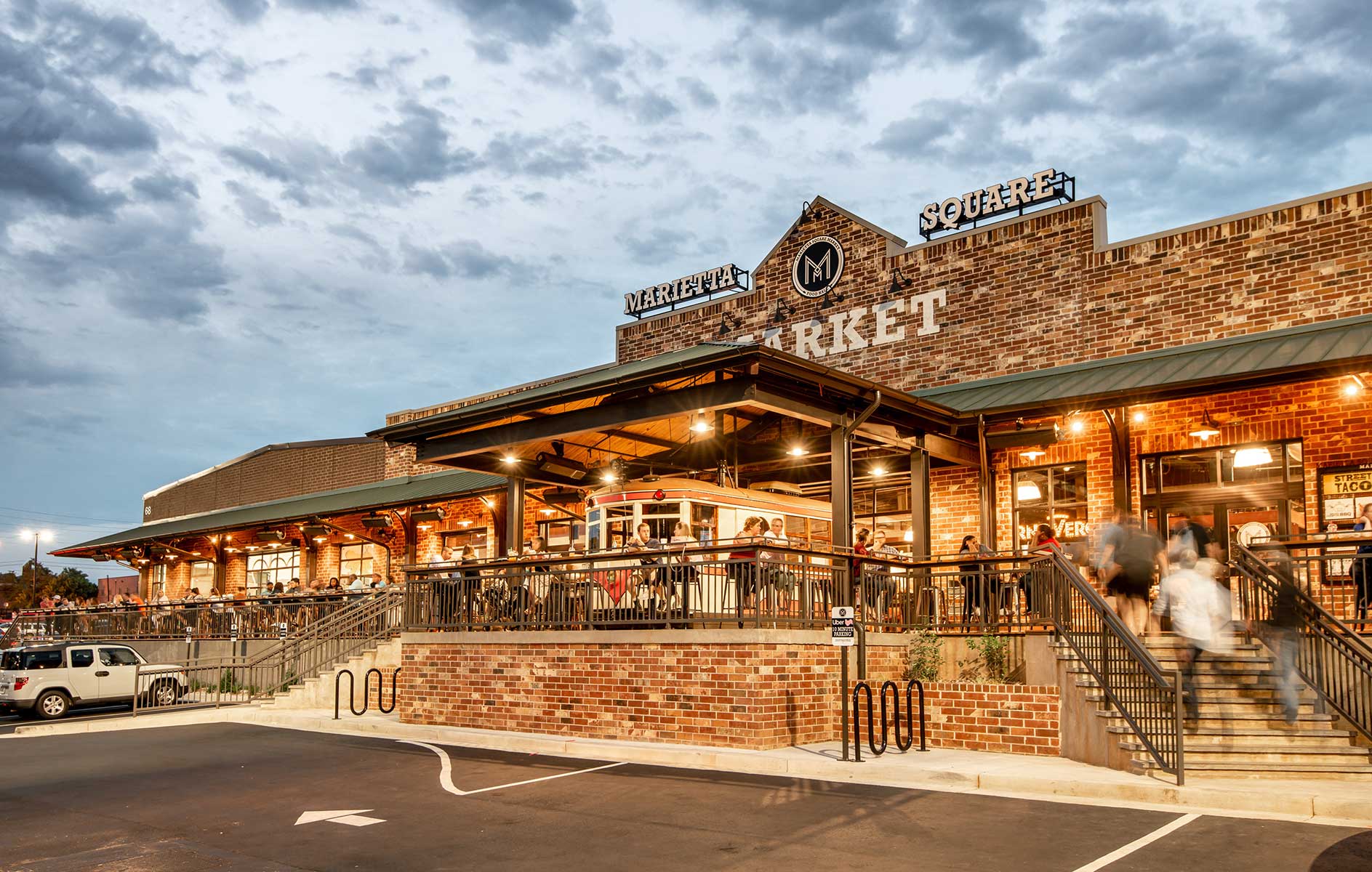 All Aboard for a New Hotspot
Client | Marietta Square Market, Creative Culinary Ventures & Concordia Properties, Atlanta, GA
By Clementine | Identity Design, Launch Strategy, Web Design, Social Media Launch, PR & Community Outreach, Grand Opening Campaign & Events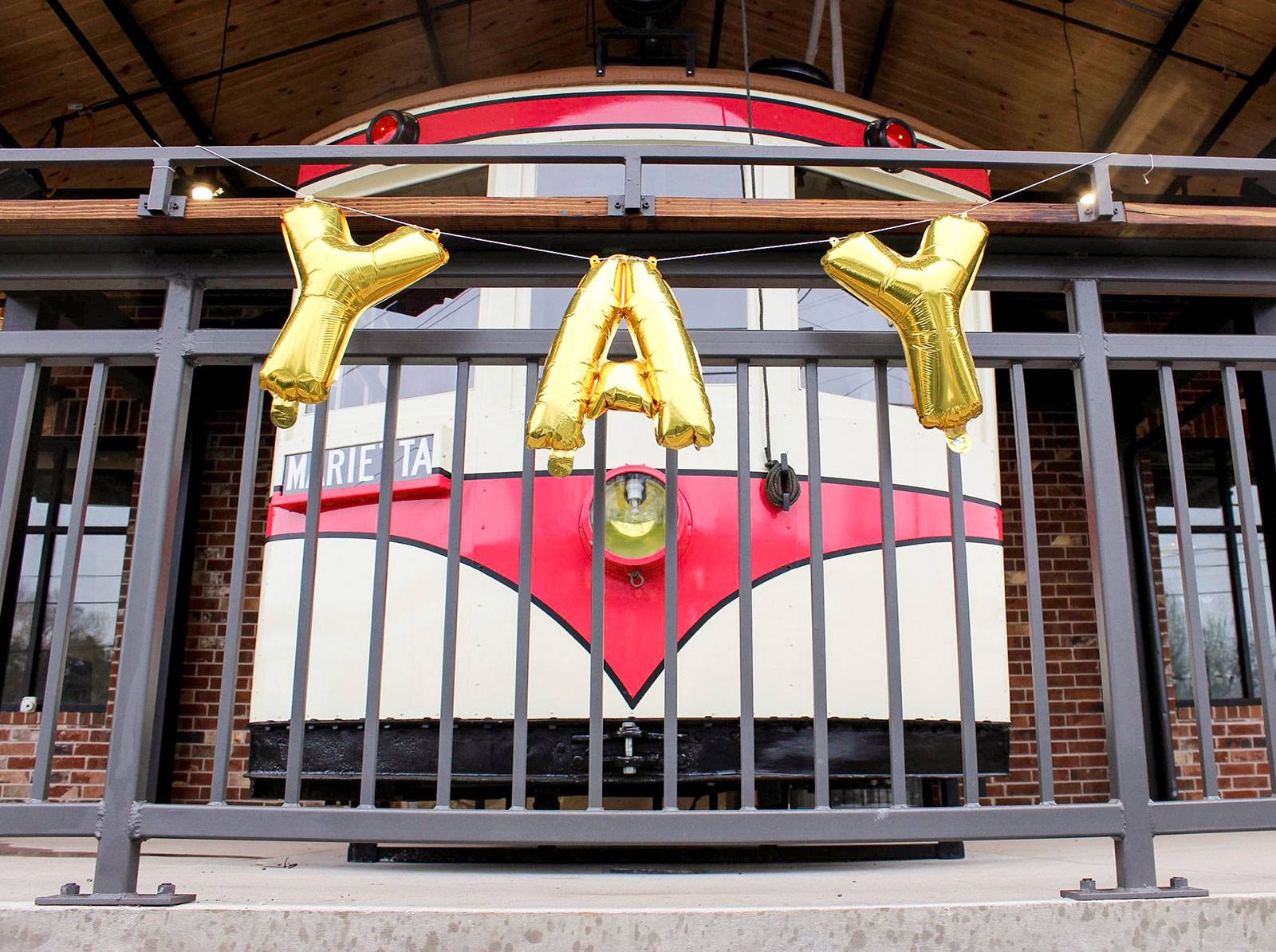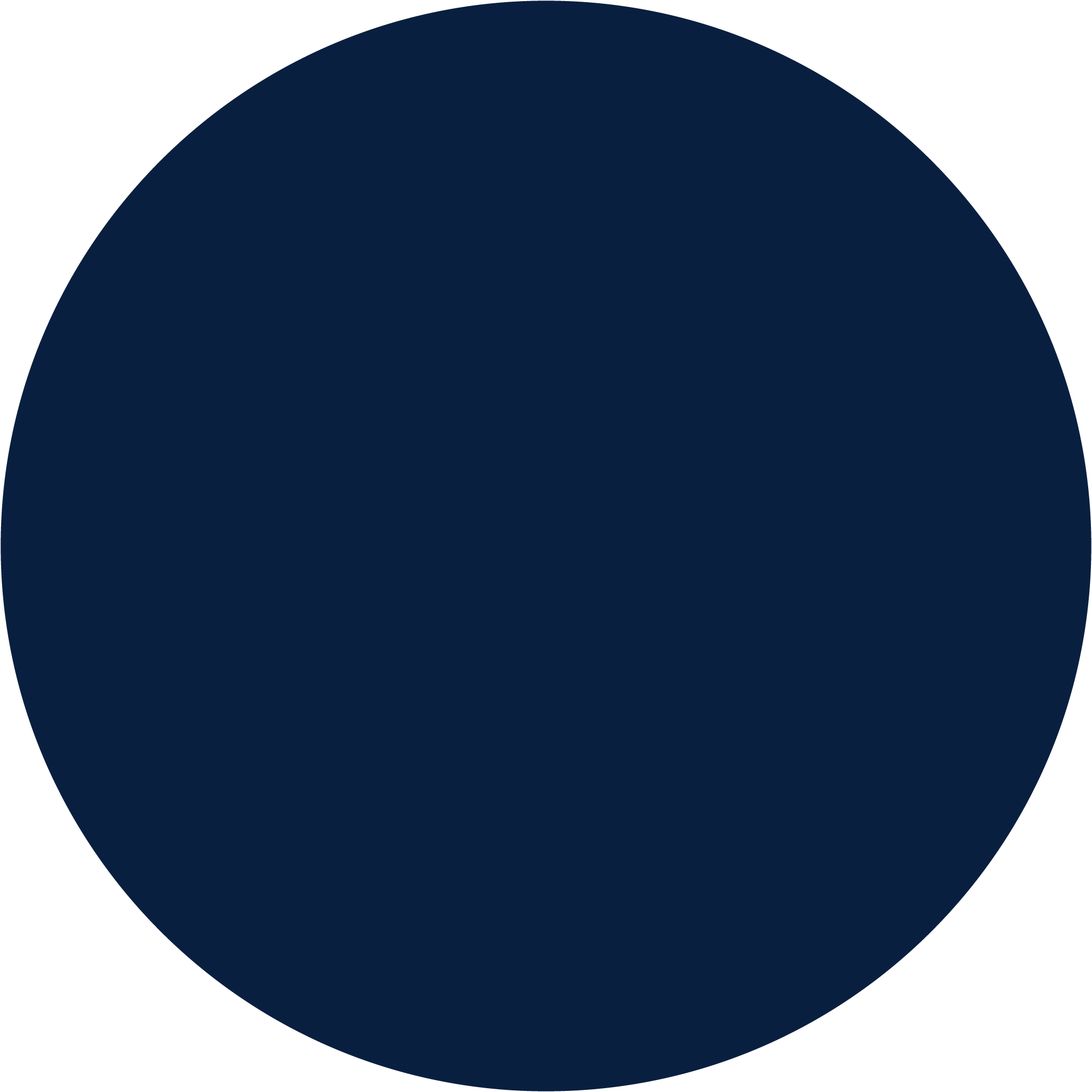 The Story
Marietta Square Market is an adaptive reuse food hall that was the first of its kind outside the Perimeter in Atlanta. Its experience is shaped by its downtown Marietta location along the city Square's central train tracks.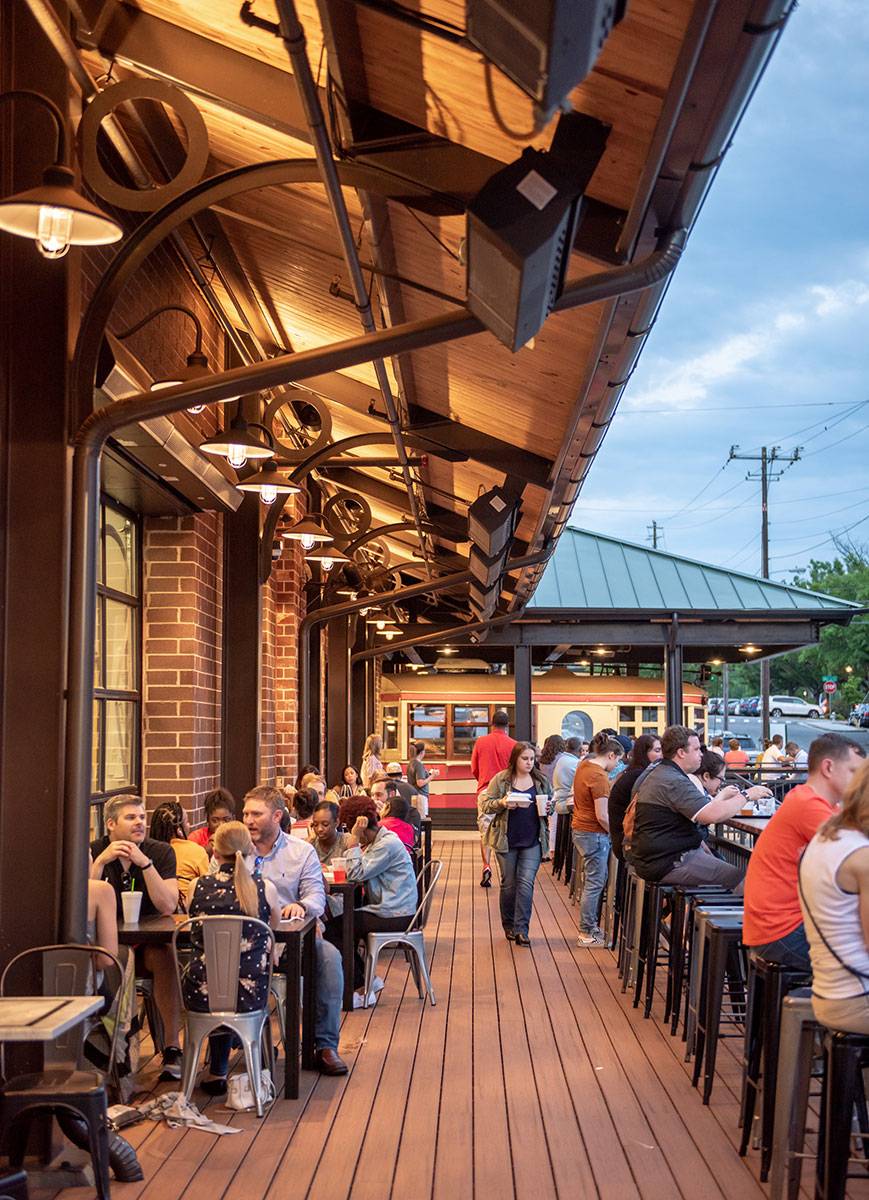 The Work
The client's desire to honor and engage the local community and ultimately become a part of its fabric led the Market's location right next to Marietta's iconic train tracks to become the inspiration for its brand story celebrating the unique history and character of the surrounding downtown Square. The brand mark assembles two nested "M's" around a central square, reflecting the name and mimicking a bird's eye view of a train moving down the tracks. A signature splash of pink is inspired by the historically accurate Marietta Line color of the 1940's trolley car on display at the Market's entry.
The rail theme continued to pull through all of the Market's branded communications from the website with its inspired imagery and unique transit-style interior directory map to its social-friendly photo opps at the trolley and its vintage train-inspired tickets for VIP and grand opening event attendees.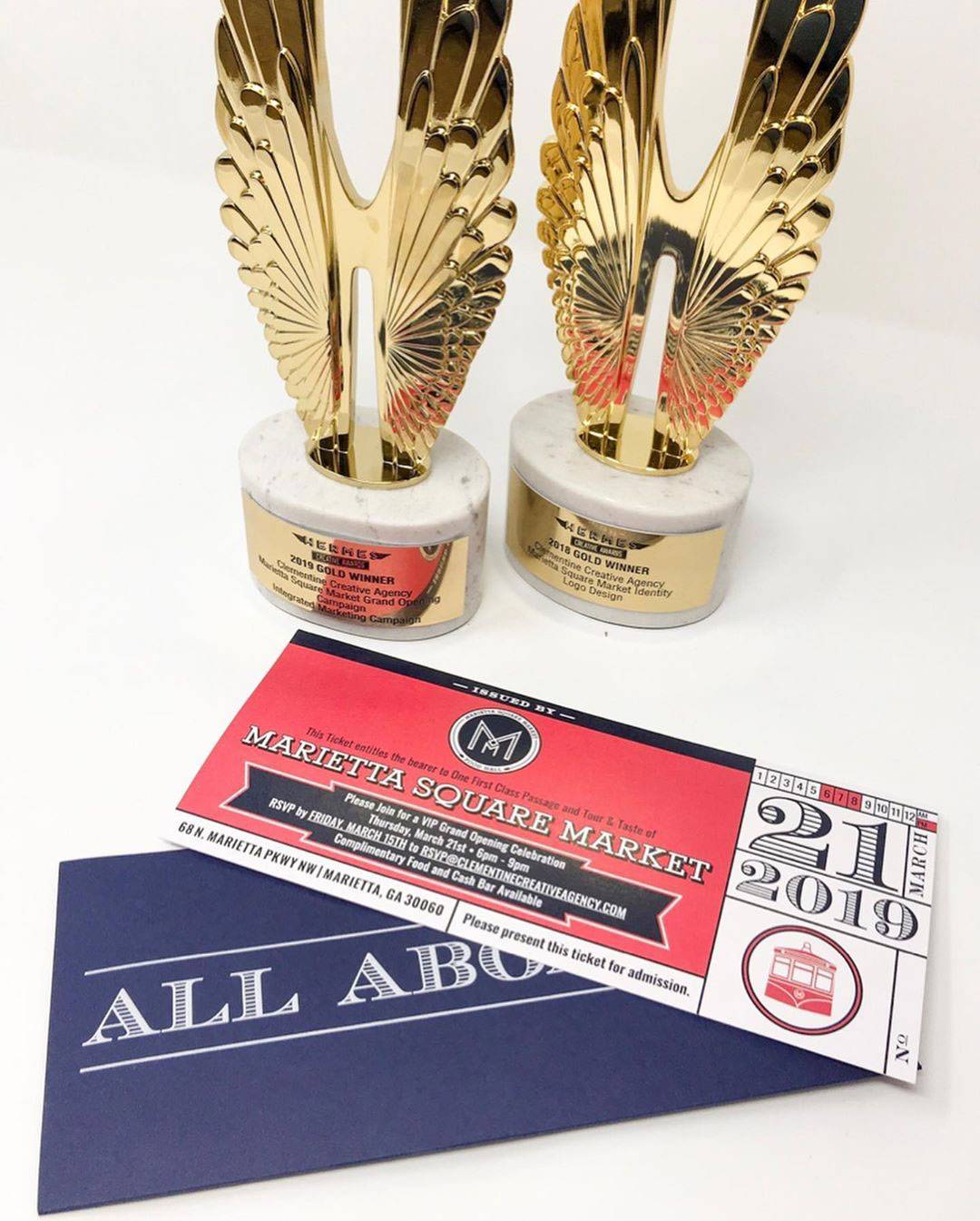 The Results
Through strong design and strategic communications, Marietta Square Market built and maintained a vigorous level of interest through a construction cycle that spanned two years. The hall was 100% leased prior to completion with an engaged all-organic social media following of more than 11,000 and more than 28,000 visitors to its website upon its initial launch prior to onsite opening. It launched to crowds of thousands on opening day without a single dollar spent on paid media advertising.
Awards
Gold Award, Logo Design | Hermes Creative Awards
Gold Award, Integrated Marketing Campaign | Hermes Creative Awards
Client Feedback
From Rich Dippolito, Executive Vice President
"You and your team have done a phenomenal job for us. The logo, website, grand opening invitations, social media content, press release, and the gift cards have all been best in class. You have established a brand for us of which we are very proud."
Standout Metrics
11K Social Followers with $0 Paid Media      100% Pre-Leased      28K Web Visits in 1st Month

See Our Portfolio