Got your eyes on the prize in 2023? It's a new year and sights are set on a fresh crop of marketing goals and objectives for your brand. Before you get to work, make sure you are up to speed on all the latest trends, tricks and changes in the playing field. Read on for our team's take on 10 marketing trends to watch for 2023 and beyond.
Got your eyes on the prize in 2023? It's a new year and sights are set on a fresh crop of marketing goals and objectives for your brand. Before you get to work, make sure you are up to speed on all the latest trends, tricks and changes in the playing field. Read on for our team's take on 10 marketing trends to watch for 2023 and beyond.
#1 – Keep It Short
Short-form videos are everywhere you look online. There's a reason for that. As platforms continue to expand their short-form components from TikTok to Meta's Reels (including both Facebook and Instagram), the short-form format (generally considered anything under two and a half minutes but more commonly 60 seconds or less) continues to enjoy rising popularity among audiences and marketers alike. One big reason that marketers are loving short form video? A recent industry survey shows that marketers consistently report it to be the most effective and highest ROI content format headed into 2023. And that makes sense. The popularity of the format has already proven its resonance with audiences of all types contributing to strong results. At the same time, short-form video generally takes less production bandwidth and investment to create, helping to further boost its ROI.
This trend isn't just limited to videos, however. Anywhere you go online, bite-size content is in – whether video, text, visuals or graphics. So, while marketers may naturally lean toward trying to cram in more and more information, the real goal should be strategic storytelling that allows you to distill each key message right down to its core and then deliver that essence in one quick bite. Not only is this a better match for your audience's attention span but, when done well, it's also a stronger, more compelling delivery of your message.
#2 – Living Local
These days, it's all about living local and the digital realm is no exception. Local marketing has never been more important than it is in 2023 as consumers look to keep it close to home and favor local businesses but still use digital channels as their primary discovery engine. One of Google's recent Consumer Insight Reports shows that searches for "open now near me" have grown by over 400% in just 12 months. Another recent consumer survey shows that 97% of users searched online to find a local business and 46% of all searches on Google include local intent.
The challenge for marketers now is to connect locally, virtually. That means optimizing your website's SEO for local search and actively managing your brand's Google Business and Google Maps presence to get in front of those local searchers. And for bigger brands, it means intentionally localizing content to compete against local businesses.
#3 – Influencers Go Micro
With social media platforms making big investments in creator programs, influencer marketing continues to grow with far reaching impact. TikTok continues to be a fertile space for influencers and creators, driving huge waves of product and sales trends. Not to be left out, Meta invested $1 billion in ramping up its creator programs for Facebook and Instagram in 2022.
Just like search, online influencers are going local as well. As more creators continue to rise, influencer marketing is less about glitzy celebrity endorsements and more about localized and micro influencers and creators with a few thousand to tens of thousands of followers. While their follower counts may be smaller, their engagement rate is often higher and they bring brands the added benefit of authenticity and relatability. They're seen as real people and often much more bonded with their audiences. As such, their opinions and recommendations carry more weight. In particular, Gen Zers and Millennials are very tuned in to what they have to say. A recent consumer trends survey shows that 33% of Gen Zers and 26% of Millennials report having bought a product based on an influencer recommendation in the last 3 months.
#4 – The Rise of AI
If you're tuned in to the news, then the name ChatGPT is likely familiar to you already. Released by OpenAI in November 2022, ChatGPT is a blockbuster new chatbot that answers questions in a conversational, dare we say, human sort of way. It has already shown off a wide array of capabilities in writing code, crafting social media posts and even drafting scripts for television shows. Users have produced everything from multi-page college essays to text video games.
So, what does ChatGPT mean for marketers? Experts foresee disruption from this type of AI content creation tool. As the technology and its capabilities continue to evolve, it could – in theory – make content creation easier than ever. As marketers seek to find an edge to do more with less in a competitive marketplace, figuring out how to ethically use AI to create quality content at scale in the right context may be the start of a paradigm shift. On the other hand, it may also create a huge increase in content published creating oversaturation and driving an ever-increasing demand for real, authentic, creative and interesting content to stand out from the rest.
#5 – Noughties Micro Trends for the Win
Have you noticed it feels very Y2K out there these days? You're not alone. The 90s and early 2000s – already trending in fashion and pop culture – are back in a big way in the marketing and design world too. It's the latest iteration of nostalgia offering an emotional respite from its sleek, futuristic surroundings.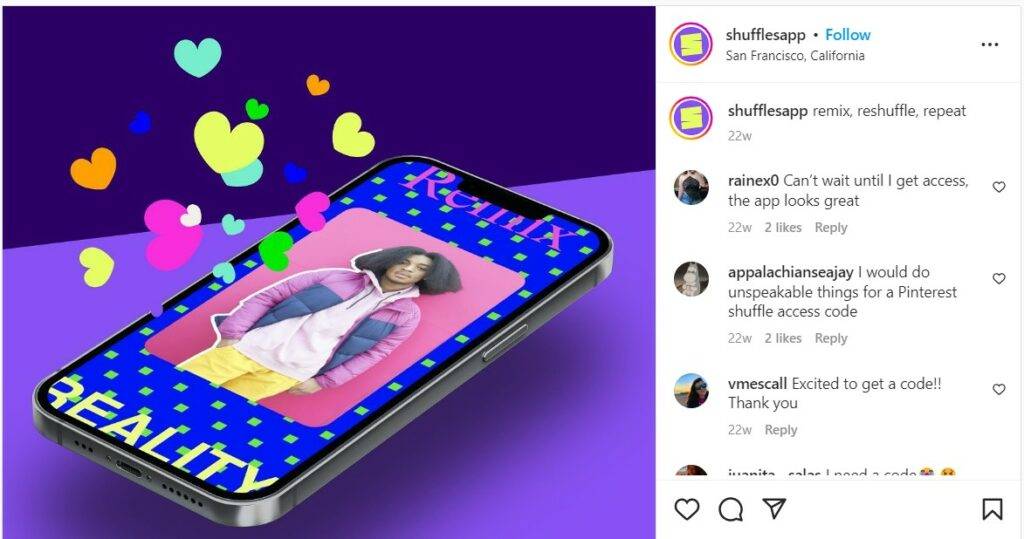 The good news is that there's lots of variation as designers draw on a diverse history of micro trends from the era to create a myriad of different looks and moods. Whether its grunge-y elements or bubble gum shades inspired by the Barbie aesthetic, metallic textures or 3D shapes, consumers are loving bringing a bit of history into the current millennium. Pinterest even launched its new Shuffles app which allows users to create cut-out style collages digitally, bringing that touch of nostalgia into the digital realm for all to enjoy and share. As this trend continues to evolve, look to bring a modern spin to noughties-inspired design for the perfect mix of nostalgic comfort and forward-thinking innovation.
#6 – Experience Rules
As technology continues to proliferate, consumers are increasingly seeking out the best possible experience in a flooded field of options. In 2023, more than ever before, user experience will drive the online marketplace with implications that touch almost every stage of the marketing and sales funnel, starting at the top. Remember when SEO (search engine optimization) was all about keyword crams and hacks and tricks? Not anymore. While keyword optimization and other basics are still relevant, SEO has become much more intertwined with the overall content quality and the experience that it provides to a user. Google's Core Web Vitals rose to prominence in 2022 as a powerful new ranking signal aimed specifically at evaluating a user's experience on a website and prioritizing those that provide the best.
And the importance of experience is not limited to search. Virtually everything we consume online is driven by an algorithm – whether it's search engine results, social media feeds or ad serves. They all essentially boil down to the same thing: platforms optimize for the best user experience, so to keep your content visible focus on delivering the content audiences want with a positive experience. The next level of user experience is on the horizon as well as consumers and brands alike contemplate the possibilities of the metaverse from augmented and virtual reality to immersive experiences available directly on your phone or laptop.
#7 – Listen Up
Podcasts continue to engage a larger and larger audience segment. Industry research says that 62% of U.S. consumers listened to podcasts in 2022. In fact, in 2022 U.S. podcast listeners averaged 8 podcasts per week. Recognizing this as another compelling way to tell their stories, many brands are already engaged in learning how to use podcasting to their marketing advantage – whether that means simply advertising to these audiences or starting up a podcast of their own to grow interest and awareness in their brand. (Have you checked out our Peel Good Marketing podcast lately?) In addition to expanding your content marketing strategy, podcasting can also help to boost your website's search engine optimization. Transcribing your podcasts or videos can also help drive up your ranking potential, particularly as the more natural speaking language pairs well with increasingly popular voice search.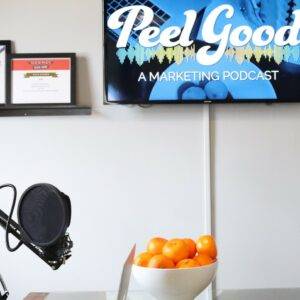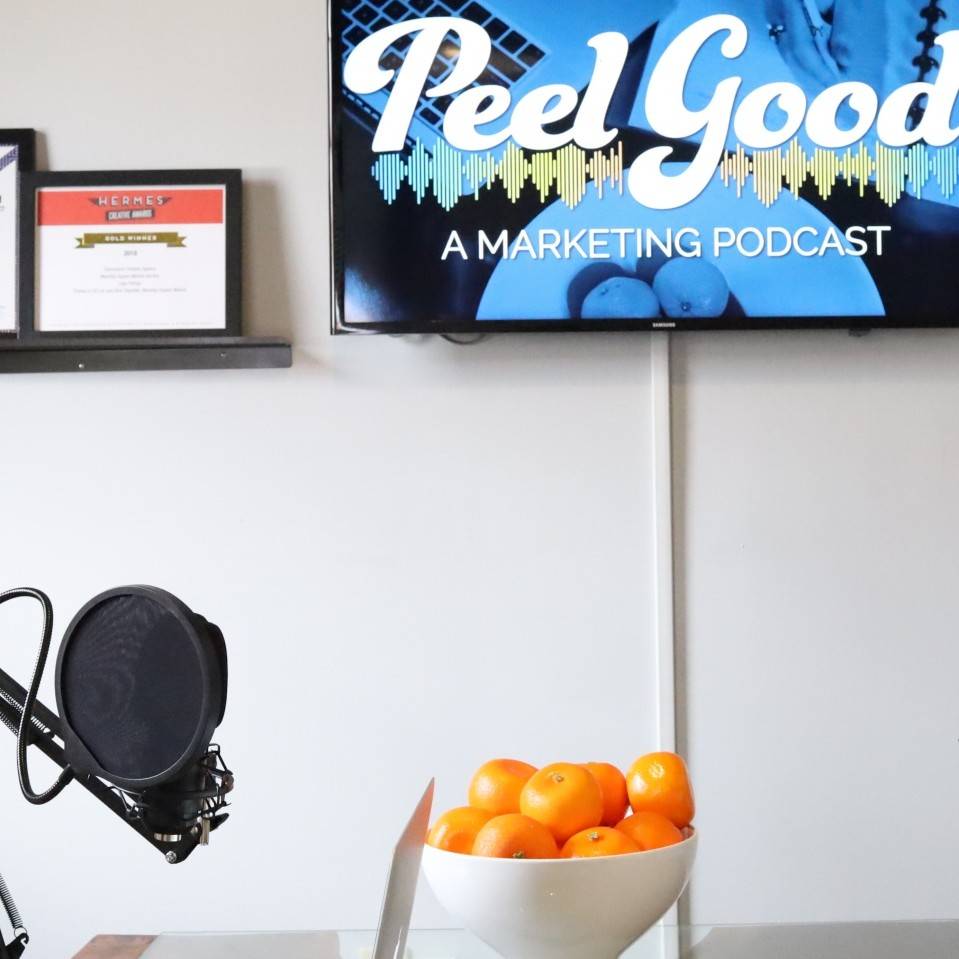 #8 – Embrace Inclusivity
Transparency, authenticity, and inclusivity matter to today's audiences. While inclusivity in marketing has been talked about a lot, it's something with which many brands still struggle. At the most basic level, think about how you can allow anyone or everyone to recognize themselves in your marketing.  That may mean showcasing a more diverse set of people or perspectives. It may mean adapting your marketing to different cultural contexts, challenging stereotypes or leaning into real stories rather than fictional personas.
At the end of the day, today's customers want to see themselves in your brand and are looking for real human connections not just lip service. Recent reporting by Forbes echoes that consumers expect brands to embrace inclusivity in a real way – by supporting their community, welcoming diversity within their own teams, building trust with a proven track record, investing in cultural intelligence and providing top-quality, tailored customer experiences.
#9 – Take a Stand
Once considered important messaging only for niche or cause-connected brands, issues of social justice and responsibility are now a mainstream consideration. Consumers today have a heightened awareness of the ethics of the brands with whom they do business. More and more consumers are actively seeking brands whose values align with their own. Recent consumer trends reporting shows that a full 50% of Gen Z consumers and 41% of Millennial consumers expect brands and companies to take a public stance on social issues. Furthermore, the report shows that a brand's advocacy – particularly on racial justice, LGBTQ+ rights and climate change – has a strong impact on Gen Z and Millennial purchase decision-making.
A full 89% of marketers say that they plan to invest in creating social responsibility content in 2023. Keep in mind though that connecting with your audience on this level is all about authenticity and never about gimmicks. Whatever you do, make sure that your messaging, actions and values align. Consumers look for brands that practice what they preach and demonstrated social responsibility is a keystone in building confidence and trust in your brand in 2023 and beyond.
#10 – Plan to Pivot
It's often said that the only real constant is change. Looking ahead to 2023, smart brands are planning for that change. As consumers and companies continue to approach the new year with caution thanks to inflation and fears of a potential recession, resiliency is also in the air. But as customers rebound, many are looking to simplify what and when they are consuming. That impacts not only their purchasing behavior, but also the channels available for marketers to reach them. With an array of platforms and other digital channels from web to streaming competing for attention, consumers are prioritizing simplicity and beginning to focus in on what they really want and need.
That means that marketers will need to be ready to follow their lead. And in order to do that, you'll need to know where they are going. Tracking macro level trends and changes will be important to keep ahead of the curve but ongoing tracking and analysis of your own marketing efforts, their effectiveness and how they are changing will be critical to recognizing shifts in your audience as they happen and reacting accordingly.
Need a hand in charting a course for 2023 and beyond? Connect with Clementine to get started!
See Our Blog
test