If you've heard it once, you've heard it a thousand times. Now more than ever, social media is a pay-to-play world. So, does that mean that organic social media has gone the way of the dinosaur? Not necessarily. Read on for 7 ideas to keep your organic social media reach alive and kicking.
If you've heard it once, you've heard it a thousand times. Now more than ever, social media is a pay-to-play world. So, does that mean that organic social media has gone the way of the dinosaur? Not necessarily. Organic social media still has a vital role to play in building your brand's presence online. When done well, organic social content can help to drive your growth on social media AND help any paid social media advertising that you do choose to do be better targeted and more successful. We've got seven tips for how to drive peak performance from your organic content.
First, Time to Go Organic
Organic social media content is defined as any free content that is shared on a social media platform. That could mean posts, images, videos, stories and more. Organic content can be seen by people who are already following you as well as people who are following hashtags you use and, in some cases, the followers of any other user who shares your content on platform. Organic content is great for:
Building engagement with your audience
Creating positive brand experiences
Cultivating conversation and feedback with your brand's followers
Strengthening relationships and customer service and satisfaction
Sounds great, right? And it is. But organic content does have limitations when it comes to other goals that you may have. For example, since only your current followers see your content, it is much more difficult to generate brand awareness among new audiences with organic content alone. And in reality, thanks to the algorithms that rank content for all of the major social media platforms, only a small percentage of your followers actually see any individual post. On Facebook for example, it is estimated that only about 5.5% of your followers see any given organic post. It's this declining reach for organic content that has driven so many brands and marketers to throw their hands up in despair and declare that pay to play is the only way.
The truth may be a little more complex though. Organic social media and paid social media both have a role to play but they serve different goals.
Better Together?
Paid social media refers to any type of advertising on social media platforms whether that is paying to boost your organic posts, crafting and pushing out new ad creative, sponsored content or, in some scenarios, partnering with a platform influencer or creator to leverage their reach. Paid social media is great for:
Generating broader brand awareness
Reaching new audiences
Launching new products or services
Driving promotions and sales conversions
While paid and organic social media implementations target different business goals (and should be crafted accordingly), the two work best together as they touch different points in the customer journey with your brand. There's a great deal of evidence that integrating both organic and paid social media strategies can be the most effective and cost-effective way to drive results and each helps to support and amplify the other. In addition, insights into the performance of your organic content and your follower audience can help you to better understand your customers and what resonates with them – allowing you to be all the more effective in targeting your paid efforts.
So, How Can You Get Your Organic Content Working Harder and Smarter?
Despite the challenges in keeping your organic reach numbers strong on social media, there are a number of things that you can do improve and maximize your organic social media performance right now.
#1 – Follow the Platform's Lead
Social media platforms regularly push out new updates and new tools. Very often, they also look to drive the usage and success of those channels within the platform by pushing content to the forefront of users' feeds and prioritizing it in their rankings. That means that you can gain some positive momentum by keeping up with and making use of the new channels available to you within each platform.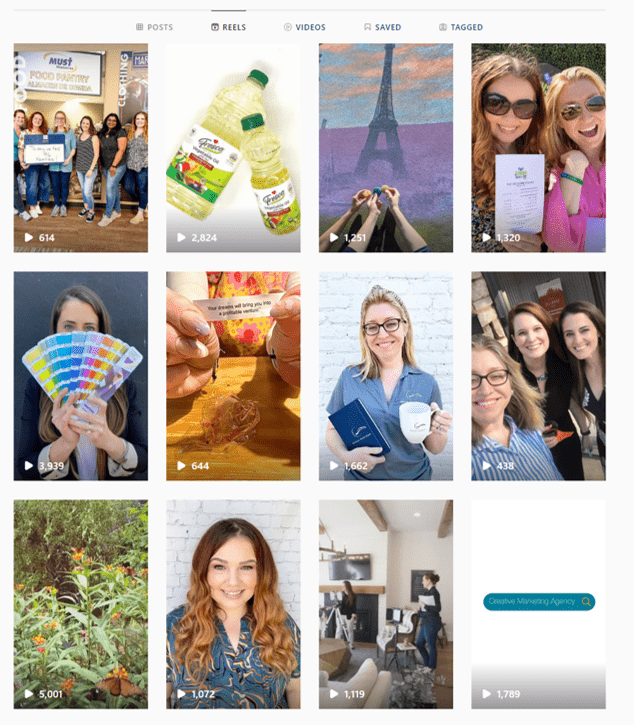 Instagram Reels is a great example of this effect. Since its launch, Reels (Instagram's short-form video answer to TikTok) has been pushed to the platform's forefront with Instagram even redesigning its home screen to give Reels a focal spot, effectively establishing Reels as a new frontier for earning views. Instagram wants Reels to be seen. That being the case, Reels is a great place to be found on Instagram and has proven to be an effective tool in generating higher views, strong engagement and new followers.

So, while it can be a job to keep up with all the new updates that come around, there's a benefit to be gained in keeping up with the latest and greatest. If you are trying a new channel or format however, it's important to make sure that you do so with quality content that is optimized to that placement. In the case of Reels, Instagram has been up front about the type of content that it recommends to users: "entertaining, funny, and interesting content" is what their users want to see while "low video quality reels (i.e. blurry due to low resolution) or content that is visibly recycled from other apps" negatively impact the user experience and are actively made less discoverable by the platform.
#2 – Cross Promote
Have a great following on Instagram but want to grow on Pinterest? Cross promoting your social media platforms to your followers can be a great way to build reach and awareness across multiple platforms.

Of course, key in this approach is having the right content on your different channels that is unique and tailored to that platform's purpose. If you are pushing out the same content in the same format on all channels (which we hope you aren't), then there is no reason for anyone to follow you in more than one place as they will see the same things. If, however, your content is distinct and unique, you can expand your audience's engagement with your brand by cultivating follower growth on multiple platforms. For example, if your wildly popular Instagram is filled with beautiful interior design photography, perhaps your Pinterest focuses on interior design trends and how-to's to achieve those looks while your Facebook presence leans into video tours and educational content from your blog. Focusing on the unique purpose and strength of each platform, allows you to cross-promote effectively and deepen your connection to your audience.
#3 – Engage and Interact
It's SOCIAL media, right? But sometimes, it is all too easy to forget that social media is not just about talking at people but talking with them to cultivate connections and community. That means engaging with people who like and comment on your posts. It also means being an active participant in the platform community as a whole – following other relevant accounts, liking and commenting on their content and engaging in authentic interactions.

On Facebook, engagement – or more specifically what the platform defines as "meaningful engagement" – is a recognized part of the platform's content ranking signals. The algorithm is looking for content and accounts that create conversations and contribute to the overall community in a positive, authentic way.
# 4 – Put Your Best Foot Forward
While you are investing so much time in crafting the perfect organic social media posts, it can be easy to forget about the look of your profile itself. Even so, maximizing the look and effectiveness of your profile or page can be an important tool in driving follower growth. After all, when it comes to getting a new follower to click that "Follow" or "Like" button, your profile page is essentially the point of conversion for the sale.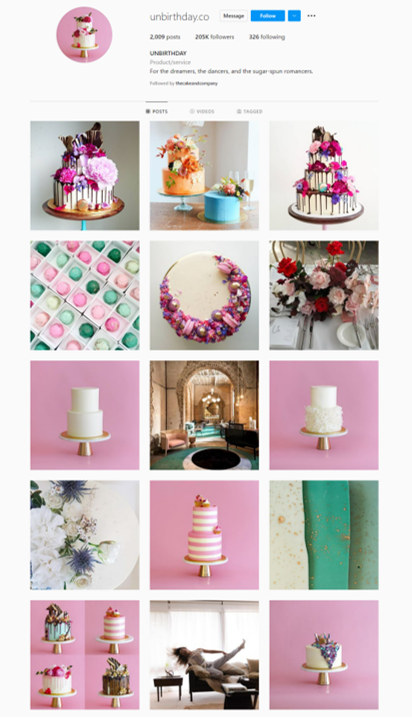 Instagram's highly visual audience prefers profiles that are visually cohesive and appealing, making it important to intentionally curate and cultivate your Instagram feed grid for a compelling look. Likewise, your Instagram bio is like a short elevator pitch about who you are and why the audience should connect with you. Don't forget about your cover photo and info details on platforms like Facebook, Twitter and LinkedIn. In each case, these are critical spots to make your case for why someone who may find you should stick around to hear more of what you have to say.
#5 – Be Consistent (And Consistently Strong)
When it comes to driving growth on social media, there's a lot of talk about frequency, suggesting that posting more and more content is the way to be seen. While frequency can be impactful, consistency and quality are much more so. If you want to gain favor for your organic content posts, your best bet is to set a consistent schedule on which you can create high quality content and then stick to it. If you can produce two top quality posts a week or four so-so posts a week, you're better off sticking with two. Quality always beats quantity in this game.
In terms of setting a posting time, there's no magic day or time that is best for every brand, every audience or every platform. Taking a look at your insights however can help you understand the days and times that your particular audience is most active on any given platform, and that's a great place to start tuning into when and how often you should be pushing content out.
# 6 – Use Hashtags – Wisely
Ah, the hashtag. They're everywhere, on everything, and often commandeered for tongue-in-cheek commentary on content (#BestBlogArticleOnSocialMediaEver). When it comes to your brand however, hashtags are actually powerful tools to reach both new and current audiences. Hashtags are essentially search terms that allow you to categorize your posts. Particularly powerful on Instagram, Twitter and TikTok but also actively used on Facebook, Pinterest and LinkedIn, hashtags allow your content to be discovered by the people that are the most interested in seeing it.
Like so many things on social media, effectively using hashtags is part art and part science. For example, Instagram allows up to 30 hashtags to be added to a single post. But according to this survey data from HubSpot, 62% of marketers max out at four to nine hashtags per feed post to avoid appearing "spammy". (Instagram itself currently recommends three to five, by the way.)There are a number of things to consider when choosing hashtags to use on your posts. Take a look at the most common ones that are in use on a platform as it relates to your product or service, your unique niche or industry community or location. And keep in mind that while branded hashtags are great for, well, branding, they're unlikely to get you found by anyone new. It's important to think like your audience in this case. What would they be searching for?
It's also important to look at the volume of posts under any given hashtag. While you want to use active hashtags, the biggest, most popular hashtags may not always be the best depending on your current audience size. That's because so many people are adding content to those hashtags that your post will get pushed down the feed in a matter of seconds. The accounts that succeed in the huge hashtags are those with enough engagement to rise to the top as "Most Popular" posts. If your audience size can't yet compete with those in this category, then you may see better results by choosing a more mid-size or targeted hashtag.
#7 – Speaking of Search Terms
Hashtags are no longer the only way that users can find your content on social media. An increasing number of platforms, notably including Instagram and Pinterest, allow for keyword searches as well. That means that your captions can play a vital role in making sure that your content is found by users that are interested in seeing it. And those are the best users to convert into new followers and raving fans. Does that mean you should be keyword-stuffing your captions like you're running website SEO in 2002? (IYKYK) Absolutely not. It does mean that you should be aware of possibly relevant search terms and intentional in crafting your content to allow it to be easily found via on-platform search.
All in all, the best social media program is a well-rounded one. By utilizing a variety of tools and a variety of content formats targeted according to your specific business goals, you can maximize your opportunities for growth and results on social. Organic or paid, text or video, Reels or TikTok, keeping your strategy focused squarely on your audience and providing consistent, quality content that they want to see is always a recipe for social media success.
Need help crafting your brand's social media strategy?
Connect with the Clementine team today!
See Our Blog
test