iOS 14.5 is rolling out and with it privacy changes that may have a significant impact on your digital advertising programs. Get the scoop on what to expect and how to prepare.
Chances are that by now you've heard about Apple's highly anticipated release of iOS 14 and its expected impact on digital advertising including social media ad programs. While the true impact of Apple's update on advertisers is still to be seen, it's important to know what to expect and how to prepare to keep your ad programs working for you.
What's the Big Deal with iOS 14?
Many users have already experienced the visual changes that the initial iOS 14 updates brought to their smartphones. However, when it comes to marketing, all eyes are on the privacy changes that are rolling out in iOS 14.5. The 14.5 update centers on app privacy and activity tracking. Simply put, this update will prompt users to actively opt in or out of data and activity tracking across apps and websites. Apple has positioned the update as an important one to protect users' privacy and allow them more control over their own data and how it is used.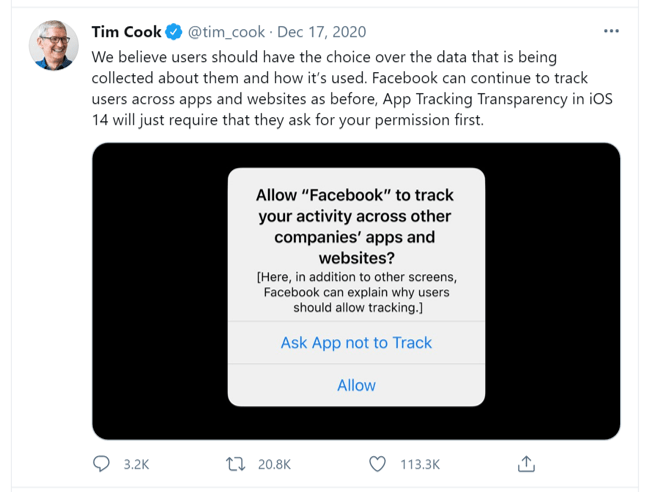 What Does That Mean for Advertising?
If iOS users choose to opt out of data and activity tracking, as many assume a large portion will, then that data will no longer be available to advertisers or ad platforms like Facebook or GoogleAds for targeting advertisers, creating custom audiences and the like. That may mean less targeted advertising capabilities, lower conversion rates and higher costs to reach customers for many digital advertisers. In addition, it may mean that many of the metrics that advertisers currently use to evaluate and refine the success of their efforts may be harder or even impossible to define. For example, due to a large portion of tracking data being hidden, it may be impossible to accurately track how many sales result from a given campaign.
What Should Advertisers Do?
Don't panic.
Some advertisers, overwhelmed by the information on the expected changes, are tempted to just shut down their campaigns until they can see what the fallout will be. But consistency is a key to success in building customer relationships and sales. The digital advertising landscape is one that changes regularly, so it's important to focus on smart adaptation for long-term success. It's also important to remember that these changes only effect iOS users, not the world of Android or Windows users.
Make sure campaigns are updated to new parameters.
Digital ad platforms have responded to the expected iOS 14.5 changes with changes of their own to prepare and optimize campaigns to comply with these new policies. In particular, Facebook has implemented significant changes to their ads ecosystem in preparation and will be pausing or discontinuing campaigns that are not adapted to the new parameters. So, whether it's Facebook or GoogleAds or any other platform, it's important to be aware of the changes they are implementing and audit your campaigns to make sure that they are in compliance and keep actively running.
Watch the numbers.
Expect to see changes in your metrics. If fewer users are able to be targeted, dips are to be expected. Also remember that these privacy changes will hide some portion of certain conversion events so you can expect to see those types of conversion metrics go down. Recognize these changes for what they are. In some cases, that may mean re-evaluating the metrics that you track and the way that you measure campaigns to determine success.
Build connections for the win.
As the online privacy debate goes on, iOS 14.5 is unlikely to be the last impactful change to the way ad platforms and advertisers handle data collected online. For that and so many other reasons, it's always a good idea to focus on building your first-party data, that is, those consumers that opt in and share their data with you voluntarily. A strong focus on building value and relationship with your target customer base through exceptional, authentic brand experiences is always a smart way to drive an engaged audience that's ready and waiting to hear what you have to say.
Need help navigating the changes for your digital advertising program? Connect with the Clementine team for a chat today!
Header photo by Arnel Hasanovic on Unsplash
See Our Blog
test